Soilless Catgrass™ - Cultivation Cup
Regular price $35.99 $24.99 31% OFF
Why your cat should eat grass?
While dogs are considered omnivores and cats carnivores, both are able to digest plants and utilize their nutrients.
One theory suggests that dogs and cats used to get greens in the wild when hunting smaller grass-eating prey, but lack this green nutrition in domesticated diets, which is why introducing organic grass into their diets can improve your pets' health.
As Featured In 
✔️ Soilless.
✔️ Reusable
✔️ It will clean your cat's mouth.
✔️ Easy and fast to grow, 5-7 days max.
✔️ It's always fun to plant your own grass.
✔️ It removes the hair bulb from the body.
Package includes:
✔️ Cultivation Cup
 ✔️ 1 seed packet (we can't provide more seeds because some countries don't allow to put more than 1 packet of seeds in a package, but you can always buy grass seeds at any local store).
Benefits of the Soilless Catgrass™
Healthy Digestion
 Help your cat achieve optimal indoor wellness with fresh and gentle green fiber that supports digestive health – a natural hairball treat.
Nutrient-Rich
All-natural, organic Cat Grass is a superfood that is packed with chlorophyll, vitamins, minerals, protein, and antioxidants.
Veterinarian Recommended
Good for them! Grass benefits even well-fed cats. Grass provides roughage that aids digestion and elimination. Cats that eat grass routinely may have more regular gastrointestinal tracts, fewer hairballs, and less constipation.
 The Design:
How to Grow the Grass:
Feeding methods:
First option: you can feed your cat directly from the planted grass on the box.
Second option: you can cut the grass in pieces and mix them with the cat's food.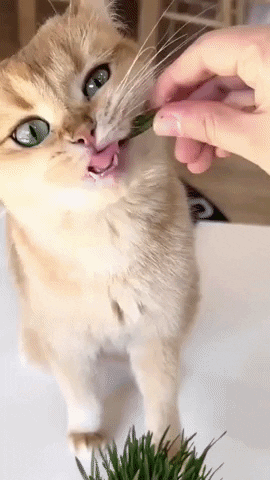 Why the Soilless Catgrass™?
Basically because it's soilless, safe, healthy, and easy to use. You will get a cup, so you will be able to plant the grass multiple times on it, there are hundreds of cat grass options available, after months of testing and refining, we are confident we have made the simplest product on the market.
Signs Your Cat Needs Cat Grass:
✓ Frequent Hairball Vomits
✓ Bad Digestion
✓ Unhealthy Fur & Shedding
✓ Bad Breath
✓ Constant Aggression
Our Guarantee
Free Worldwide Shipping
We offer 100% free shipping worldwide for orders over the value listed above.
30 Days Money-Back Guarantee
30 min or 30 days from now… If you are not satisfied as a customer, you'll get every penny back, no questions asked.
100% Cat-Safe Materials
All of our products are Food Grade & FDA compliant.
people are currently looking at this product
Estimated delivery time 5-10 days